The Cariboo Chilcotin Coast is a land of big adventure and wide-open spaces. Visit real working ranches and horseback ride over rolling rangeland. Fish the provinces best freshwater lakes and secluded saltwater inlets. British Columbia's wild history comes to life with rodeos, heritage villages and historic First Nations communities.
In the 1800s miners from all over the world rushed to the Cariboo Chilcotin Coast. The small towns boomed into cities almost overnight with men eager to strike it rich in the gold fields. Gold fever had hit British Columbia and with it came a legendary era of saloons, cowboys and Wild West frontier adventure. Eventually, the gold rush died out. With it went the miners and the bustling cities soon turned into empty buildings. Today, the legends and ghost towns have been faithfully brought back to life in towns like Barkerville, but the frontier adventure has always been alive and well.
The Cariboo Chilcotin Coast is an immense region. It stretches from near the Alberta border all the way west to the Pacific Ocean. Over 600 km (375 mi) wide, people who come in search of wide-open spaces are never disappointed. Diverse in scenery, rich in history and full of adventure, the Cariboo, the Chilcotin and the Coast regions are British Columbia's real west.
Cariboo
The Cariboo is situated in the east of the region and is accessible via Hwy 97, the Gold Rush Trail. The Trail is clearly marked by signposts. Starting in the south at Clinton the Cariboo region stretches north to Quesnel and beyond to Prince George. A stop at the mining frontier town of Barkerville is always a favourite. The gold-rich town of Barkerville sprang up in the 1860s after a British prospector named Billy Barker struck it rich on Williams Creek. Completely restored, the town brings the rough gold-rush days to life. More »
Chilcotin
The Chilcotin is a land of dramatic landscapes dominated by ranchlands, cut by rivers, dotted with lakes, pine and spruce forests and grasslands where grizzlies, caribou, mountain goat, moose, bighorn sheep and deer wander free. Thousands of cattle roam the rolling hills, and this is a land where cowboys still reign. The Chilcotin starts in the south at Lillooet, Mile "0" on the Cariboo Waggon Road. This environment is dominated by the desert flats of the Fraser River canyon which slowly transition as you head north into a semi-arid region of sagebrush and prickly-pear cactus. As you near Alexis Creek in the central Chilcotin you encounter rolling forests and ranchlands crisscrossed by river valleys. West Chilcotin is accessible along Highway 20 and as you approach the community of Anahim Lake the landscape of foothills change to snow-capped peaks as the plateau rises into the Coast Mountains. More »
Central Coast
The Central Coast is home of The Great Bear Rainforest and provides the most awe-inspiring sport fishing and scenery in the region. Hundreds of kilometers of rivers flow down from the Coast Mountains, but the saltwater inlets and channels cause the most excitement. Home to salmon, halibut and cod, the beauty of the mountainous fjords drew settlers from as far as Norway. Explore over 400 km of protected waterway by boat, stopping to see abandoned towns and beautiful secluded harbours. The town of Bella Coola is home to several West Coast native artists and a museum that recounts First Nation's history before contact with European explorers. More »
Full of adventure, living history and beauty, the Cariboo Chilcotin Coast is far more than British Columbia's answer to the Old West – it is the living Wild West.
Cariboo Chilcotin Coast & Nearby Accommodations
Airport Inn Motel & RV Park
Quesnel
Situated on 14 acres of the flat land surrounded by mountain, forest and trees, our Airport Inn Motel & RV Park focus on the Comfort and Relaxation of our valuable guests while away from home. We are conveniently located on Highway 97, minutes away from downtown, close to Airport & Junction to Bark ...
More Details
Alamo Motel & RV Park
Quesnel
A restaurant is featured at this Quesnel motel. A microwave and refrigerator are offered in each guest room. Free Wi-Fi is provided. A cable TV is featured in each brightly furnished guest room at Alamo Motel. All air-conditioned rooms offer coffee-making facilities. A desk is provided. A launderett ...
More Details
Anahim Lake Resort & RV Park
Anahim Lake
Anahim Lake Resort lies on the eastern slope of the Coastal Mountain region in BC's Chilcotin. Situated on the shore of Anahim Lake panoramic views of the mountains are a daily treat. The resort offers the vacationer Rustic Simplicity, top-notch down-home service and excellent fishing. Accommodation ...
More Details
Bailey Bridge Campsite & Cabins
Hagensborg
Your hosts, Keith and Val, invite you to enjoy your stay with us on the banks of the Bella Coola River. Whether it be secluded, wilderness or spacious campsites or cabins, all are available while you enjoy world class river fishing for salmon and trout or as a base for your hiking or touring adventu ...
More Details
Barney's Lakeside Resort & Bistro
Chilanko Forks
Relax in the peace and quiet of the Chilcotin. Wildlife abounds with deer, moose, bear, wild horses, fox and numerous species of birds. A 12-acre lakeside resort, located on beautiful Puntzi Lake. The lake (approximately 11km long and 5km. Fishing for wild rainbow trout and kokanee salmon. Hunting, ...
More Details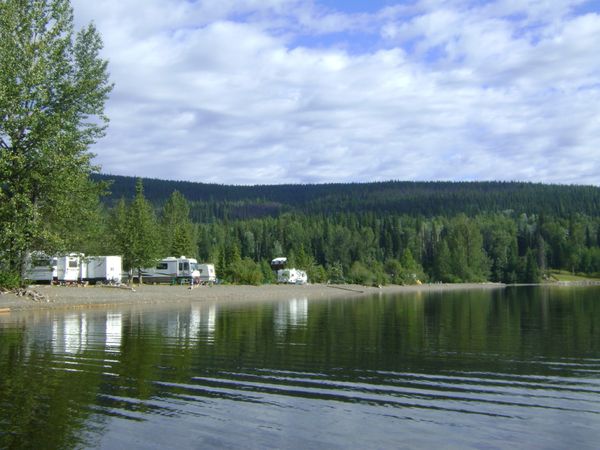 Bowron Lake Lodge & Resorts
Quesnel
Located on the best recreational property on Bowron Lake, Bowron Lake Lodge & Resorts is the ideal vacation destination for families, retreats or groups. Situated on 254 acres on the shores of Bowron Lake, our resort is surrounded by pristine beauty. We offer a private beach that stretches over 650 ...
More Details
Canim Lake Resort
Canim Lake
Nestled between the Rocky Mountains and the Coast Mounains, Canim Lake Resort rests on the shores of a 24 mile long lake with mountains and rolling hills circling around. The whole family will love the endless activities offered at our resort. Choose from the several trails for a fun day of hiking, ...
More Details
Canyon Creek Campground
Hixon
Beautiful scenery, eco trails, full hookups, pull thrus, secluded mossy tenting sites, shower house, laundry, store, barbeque, covered pavilion, fire pits, creekside settings, fishing, swimming, playground, volleyball, horseshoes, internet. Close to Hixon Falls, local attractions. All welcome. 10% S ...
More Details
Cariboo Bonanza Resort
Lone Butte
Situated on beautiful Horse Lake in the centre of the Cariboo region, Cariboo Bonanza Resort is the ideal vacation destination for guests wanting a tranquil getaway. Unwind in the pristine wilderness and catch sight of majestic wildlife. Offering a range of accommodation, guests can choose from rust ...
More Details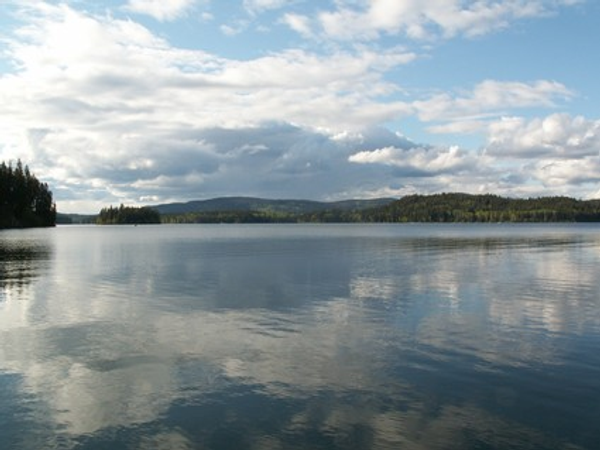 Cottonwood Bay Resort
Bridge Lake
The resort offers motor boat, canoe, kayak and bicycle rentals. Bridge Lake is one of the nicest lakes in the Cariboo. It has over 20 islands, which you can explore. Bring your fishing gear and catch a lake trout, kokanee or rainbow. Enjoy the wildlife and maybe a fire in the evening. ...
More Details