The Canadian Rockies straddles the boundary of British Columbia and Alberta. In BC, the majesty of Yoho and Kootenay National Parks dominate the skyline as does Glacier National Park to the west.
Everywhere you look, the stunning mountains rise up to envelop the skyline and plunge into deep valleys with glaciers, forests and rocky fissures. There is nowhere quite like the Canadian Rockies to create jaw-dropping scenery.
Golden & the National Parks
Glacier National Park's rugged peaks and sheer cliffs form a stark but beautiful part of Canada's natural heritage. As they did thousands of years ago in the Ice Age, more than 400 glaciers are still sculpting the landscape out of the park's many mountains.
Because half of Glacier National Park is above the treeline, visitors can hike almost any of the park's many trails and experience alpine tundra where, for a few weeks each summer, the meadows burst into a sea of flowers. At lower altitudes, the high precipitation has created a lush rain forest of cedar and hemlock. Backcountry skiing and backpacking are popular activities. Within the park, the Rogers Pass, site of the largest controlled avalanche area in North America, has been designated a National Historic Site.
Heading east from Glacier National Park, and located on the banks of the Columbia River, is the community of Golden. Golden has transformed itself from its railway heritage to become the gateway to a mountain of outdoor adventure. Preserved remnants of early 19th century architecture harmonize with alluring shops and restaurants. Naturalists converge on Golden as a vantage point for wildlife viewing and birdwatching. Anglers fish the local rivers and lakes for trophy trout.
Golden is the gateway to Yoho National Park. With breathtaking scenery, Yoho National Park offers hikers, campers and sightseers lots to see and do in one of the most beautiful settings on earth. High in the mountains above Emerald Lake, the Burgess Shale has preserved fossils in delicate detail that are the remains of an incredible variety of life forms from the Middle Cambrian time period.
Located in the Park is the village of Field nestled at the foot of Mount Stephen, on the banks of the Kicking Horse River. It was here that 19th century railroad engineers faced and endured one of their greatest challenges – the steep narrow valley below Kicking Horse Pass. Today, the highway follows the old rail bed, while trains safely use two ingenious spiral tunnels cut into the valley walls. Field is home to the Burgess Shale Foundation and to many artisans whose works can be found in the village.
The Columbia Valley & Kootenay National Park
The Columbia Valley encompasses the towns between Radium Hot Springs and Fairmont Hot Springs. Heading south from Golden on Highway 95 the road follows the mighty Columbia River into the Columbia Valley.
At Radium Hot Springs, Highway 95 joins with Highway 93, the gateway to Kootenay National Park, where towering summits and hanging glaciers meet narrow chasms, broad forested valleys and colour-splashed mineral pools. An area of incredible scenery and abundant wildlife, the best way to experience the Park is to travel the Kootenay Parkway (Highway 93) which cuts through the park from north to south. This route offers an ever-changing panorama with everything from alpine tundra, to stands of Douglas fir and prickly pear cactus. Hiking trails originate from the parkway with one breathtaking trail crossing the Vermilion River, ending at the cold mineral springs known as the Paint Pots. At the Paint Pots, the iron in the water has seeped into the clay of the region giving it a vivid orange colour.
Radium Hot Springs, while well-known for its relaxing and therapeutic hot springs also has two championship golf courses, alpine meadow trails blanketed with wildflowers, and soaring mountain-scapes to hike. Wildlife abounds here at the edge of Kootenay National Park where bighorn sheep and deer form part of the village's resident population.
Heading south from Radium Hot Springs is the community of Invermere. This is the commercial centre of the Columbia valley and is located on Windermere Lake. Visitors can take a leisurely stroll along the charming flower and tree-lined main street with its quaint shops, arts and crafts and outdoor cafes.
Just a short drive from Invermere is Fairmont Hot Springs Resort, one of the most complete four-season destinations in the world with golf courses, skiing, spa facilities and Canada's largest natural mineral hot pools, and all framed by the spectacular peaks of the Rocky Mountains.
History, Bavaria & Outdoor Adventure
Heading south on Highway 95 you arrive at Skookumchuck which was settled by homesteaders in the late 19th century and was good for growing crops and ranching. Skookumchuck is situated next to Premier Lake Provincial Park which has five beautiful emerald green lakes – Premier, Canuck, Yankee, Cat's Eye and Quartz. Fishing is the main attraction but swimming, canoeing, kayaking and hiking are popular pastimes.
Turning west onto Highway 95A at Wasa is the short drive to Kimberley, a city with a delightful Bavarian flavour and a culture of festivals. Kimberley's energy emanates from the Platzl, an esplanade punctuated with picturesque shops and hanging baskets. A forest-trimmed path leads from the Platzl to the aromatically captivating Cominco Gardens.
Turning east at Wasa, Highway 93/95 leads to Fort Steele Heritage Town, a restored 1890s pioneer boomtown, with dozens of heritage shops and buildings. Locals in period costume go about their business in the blacksmith's shop and the schoolhouse. Popular summertime features include the Wild Horse Theatre and living history street dramas, horse-drawn wagon rides, and re-enactments of domestic life of the times.
The southern point of this area is marked by Cranbrook, the largest town in the region. Cranbrook owes its recent history to the railway and the Canadian Museum of Rail Travel. Located downtown, the museum preserves the glory days of the railroad, with elaborately restored passenger cars.
South of Cranbrook, Highway 3/95 heads over to Creston. Along the way are four provincial parks of note. Jimsmith Lake Park is located just south of Cranbrook and offers swimming and non-motorized boating;  Moyie Lake Park has a day use area with boat launch and access to the deep blue mountain waters of Moyie Lake; Gilnockie Park is home to some of the oldest fir and larch stands in the region where bears, moose, elk, white-tail and mule deer are found; Yahk Park provides picnicking opportunities and conserves a short scenic section of the Moyie River.
The Elk Valley
The Elk Valley runs along the eastern edge of British Columbia from Kookanusa Lake in the south up to Elkford and beyond, via Highways 93, 3 and 43.
Heading southeast from Cranbrook along Highway 3/93 you will travel along the Kootenay River ending up in the Elk Valley. Along this route is Bull Valley where both the Bull and Elk rivers drain into Kootenay River via the reservoir of Lake Koocanusa.
Kikomun Creek Provincial Park is located on Lake Koocanusa, 75 km (46 mi) east of Cranbrook. This park offers great Kokanee salmon fishing, a wide variety of family hiking, mountain biking and water recreation opportunities and has a notable population of Western Painted Turtles.
Heading east up the Elk Valley on Highway 3 the first major community is Fernie and the centre of the picturesque Elk Valley. Fernie's architecture is a feast of 19th century brick and stonework. Fernie's 18-hole renowned golf course is located in view of the spectacular mountain peaks of The Three Sisters and Ghostrider Mountain. In the winter months, Fernie turns into a winter wonderland of snow offering some of the finest powder skiing in the world.
The area is also rich in wildlife with major concentrations of bighorn sheep, mountain goats, grizzly bear and elk. A good place to view the wildlife is in Mount Fernie Provincial Park which is situated in the southern portion of the Kootenay Range.
Heading east 29 km (20 mi) from Fernie along the Crowsnest Highway, (Highway 3) is the town of Sparwood and the heart of coal country. Sparwood's claim to fame is highly visible as the world's largest tandem axle dump truck is parked next to the Visitor Centre. Bigger than a house it has tires that are twelve feet in diameter. Sparwood has also turned over its walls in downtown to artists and a walking tour of the town will take you past murals depicting the Elk Valley's history.
Traveling north on Highway 43 leads to Elkford, located at the end of the paved road. 87 km (52 mi) north of Elkford is one of the largest sub-alpine wilderness recreation areas in British Columbia, Elk Lakes Provincial Park. The park offers excellent wildlife viewing for elk, mountain sheep, goat, moose and deer. An abundance of bird life also proliferates.
The Elk Valley comes alive with wild flowers in the Spring. None is lovelier than the rare and protected calypso orchid (fairyslipper). Hiking and mountain biking are popular, and hikers can find hidden 'hot springs' high in the hills. In winter, Elkford is a major destination for snowmobile enthusiasts where there are miles of mapped trails and powder bowls to explore.
Explore the Communities of Canadian Rockies
Discover the Kootenay Rockies Sub Regions
Canadian Rockies & Nearby Accommodations
Golden Golf Club RV Park
Golden
Located in the Rocky Mountains, the Golden Golf Club R.V. Park is just minutes west of Golden, B.C. Adjacent the RV Park is our 18 hole golf course, practice facilities, restaurant, mini-golf course and in close proximity to Kicking Horse Mountain Resort, hiking, cycling trails and Golden Town Centr ...
More Details
Featured
Campers Haven RV & Tent Park
Donald
Welcome to Campers Haven RV & Tent Park, the ideal destination for RVers and campers seeking the rest and relaxation atmosphere! Located off Highway 1 in Donald, BC, our campground offers peaceful and scenic sites for guests to enjoy a good night's sleep. Our sites are big rig friendly as we offer ...
More Details
Canyon RV Resort on Sinclair Creek
Radium Hot Springs
A well-known campground in a booming resort village. Located in private valley with a stream running through it. Spectacular washrooms, groomed lawns, mature trees. Close to hot springs and too much golf! A good home base for trips to Banff and Lake Louise. Reservations recommended. 7 days notice to ...
More Details
Cranbrook/St. Eugene KOA
Cranbrook
Situated at the beautiful St. Eugene Golf Resort & Casino surrounded by picturesque views of the Rocky Mountains, St. Eugene RV Park is a great destination for campers to enjoy the perks of resort amenities while sleeping in nature. The RV Park offers deluxe riverfront sites, both back-in and pull-t ...
More Details
Elkford Municipal Campground
Elkford
A riverfront campground located right in town and within walking and driving distance to all community amenities and indoor/outdoor recreational opportunities. Elkford is a place where nature prevails; experience breathtaking views, trails, wildlife viewing and more! ...
More Details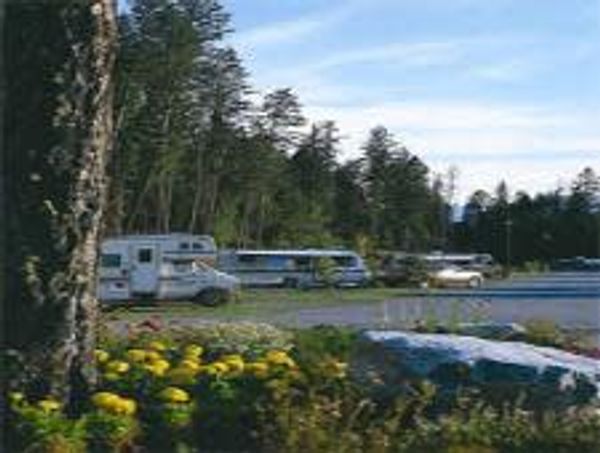 Fairmont Hot Springs Resort
Fairmont Hot Springs
Experience Canada's largest mineral hot springs at this family-friendly BC Rockies Mountain resort. Enjoy 45 holes of golf, family ski area, spa, recreational programs, dining and 2 RV parks. Lodge guests enjoy exclusive access to guest hot springs complex. ...
More Details
Fairmont Mountain Bungalows
Fairmont Hot Springs
Nestled in the centre of the Rocky Mountains, Fairmont Bungalows offers self-contained cabins and motel units surrounded by majestic trees, grassed fields and beautiful gardens. Our unique cabins feature amenities to create a comfortable and relaxing visit. Each cabin has its own private veranda wit ...
More Details
Fairmont Vacation Villas Mountainside
Fairmont Hot Springs
Surrounded by the beautiful Rocky Mountains, Fairmont Vacation Villas Mountainside is the perfect vacation destination that offers all conveniences of your own home and more. With 116 spacious villas, guests will be spoiled with gorgeous views of the mountains and golf course at their front door. Ca ...
More Details
Fernie RV Resort
Fernie
This resort is nestled beside the majestic Elk River in picturesque Fernie, BC. It offers current state of the industry facilities, services and is designed to accommodate a complete range of recreational vehicles from the smallest to the most sophisticated plus an area for tent camping. The resort ...
More Details
Fort Steele Resort & RV Park
Fort Steele
Nestled in the heart of the Kootenay Rockies, Fort Steele Resort & RV Park is an ideal destination for guests wanting a relaxing and peaceful vacation. With endless recreational activities and wonderful weather, you will be returning year after year with the whole family. At our campground we have b ...
More Details