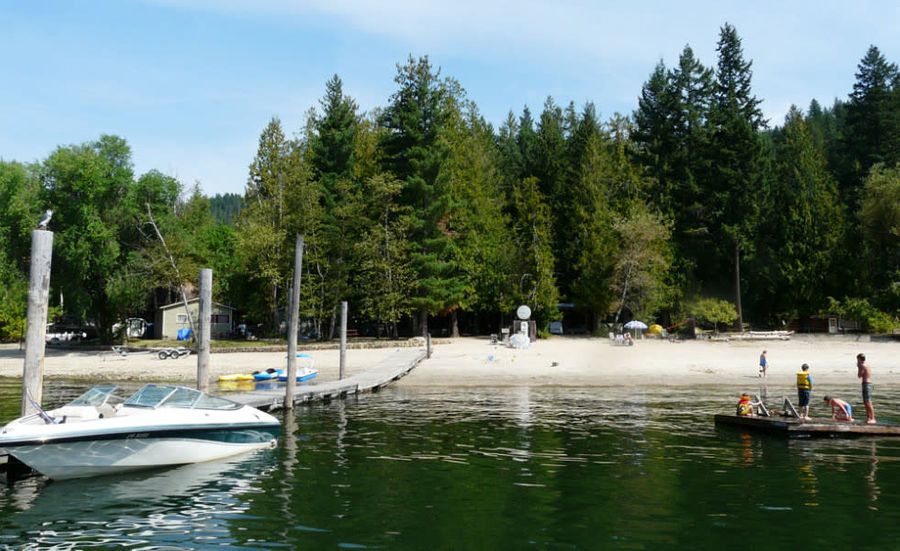 We're working on getting payments accepted now, we'll be ready to take your reservation soon.
Powered by
nomadreservations.co
Kingbaker Creek Resort
8528 Hwy 97A Mara, BC V0E 2K0
Enjoy a family-friendly environment at Kingbaker Creek Resort, where many families return year after year to create unforgettable memories. Spend the hot sunny days at our sandy beach with a low slope, perfect for the kids to safely swim. We have ancient cedar trees scattered throughout our well maintained property to offer shade when the sun gets too hot. The resort offers spacious sites for both tents and RVs. For your convenience, you're able to hookup your RV to the basic needs. The property is adorn with many picnic benches to enjoy delicious meals, as well a gazebo for shelter. Sleep in one of our charming cabins located only a few steps to the beach. With breathtaking lakeviews, the cabins feature kitchens, two bedrooms, washrooms and large decks. Nestled on the shores of Mara Lake, our resort offers several water sport activities, including swimming, boating, water skiing and fishing. The kids will enjoy playing at the play centre, featuring a slide, platform and swings. After a fun filled day, unwind by one of our community firepits and meet other campers or gaze at the night sky.
Amenities
Accepts Debit Cards
Accepts Credit Cards
Swimming Beach
Boat Ramp/Launch
Laundry/Laundromat
Water Front
Restroom
Pull-thrus
Showers
Water on Site
Kitchenette
Non-smoking Rooms
Lodging/Campground Information
| | |
| --- | --- |
| Camping Rates | $30.00/night per 2 people $5.00 add'l person $4.00/Day Power $4.00/Day Sewer Moorage $10.00/Day Maximum 6 per site Cabins $915.00/ 4 people $5.00/Day Extra Person Minimum one week stay in high season Minimum stay 4 nights in off-season |
| Rooms with Kitchens | 5 |
| Room Rates | $30.00/night per 2 people $5.00 add'l person $4.00/Day Power $4.00/Day Sewer Moorage $10.00/Day Maximum 6 per site Cabins $915/ Week/4 people $5/Day Extra Person Minimum one week stay in high season Minimum stay 4 nights in off-season Minimum one week stay in high season Minimum stay 4 nights in off-season Minimum one week stay in high season Minimum stay 4 nights in off-season |
About the Owner
Contact the property
Phone: (250) 838-7015
Fax: (250) 838-7015
Policies