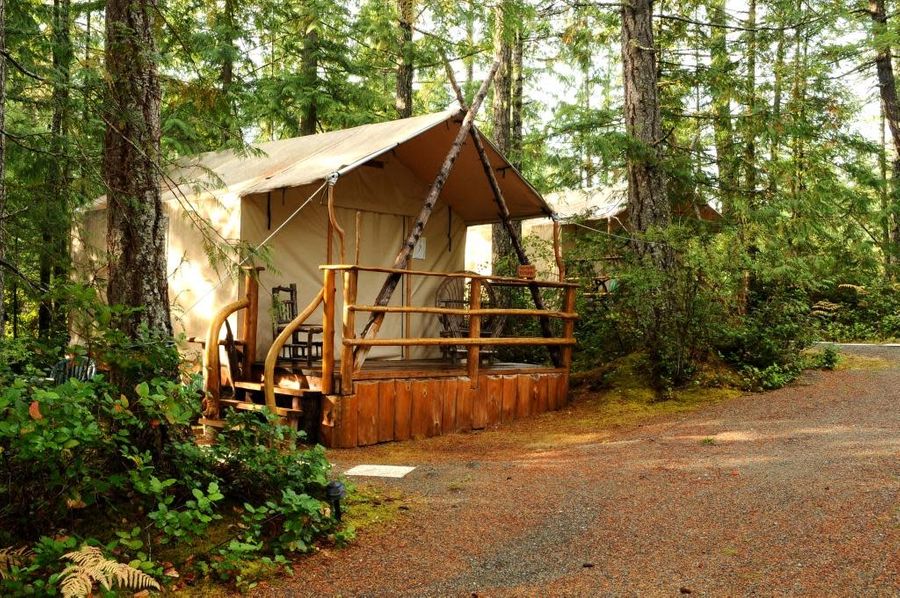 Please contact our property via our website, email or phone below to make a reservation.
Powered by Claim this Listing
nomadreservations.co
Ruby Lake Resort
15426 Sunshine Coast Hwy Madeira Park, BC V0N 2H1
Open 2021-05-01 - 2021-09-01
12 Sites
16 Rooms
Surrounded by the Caren Range Mountains and beautiful Ruby Lake, Ruby Lake Resort is a true piece of paradise to escape urban life. Our resort is ideal for romantic getaways or family vacations, so stay in our Safari Tent or well-appointed cottage suites to enjoy a relaxing retreat. The Safari Tents are situated at the foot of Caren Range, nestled in the lush forest. Our canvas tents are equipped with cozy beds, power and light. Washroom facilities are a short walk from the tents, where hot showers, sinks and toilets are available. The cottages are parallel to Ruby Lagoon featuring comfortable beds, some with full kitchens and kitchenettes, and water views. We have a natural wildlife sanctuary, home to turtles, beavers, otters, and many other animals. Visit our onsite Italian restaurant for delicious meals while sitting on our gorgeous patio during the summer or relaxing by our wood fireplace in the fall. We have a small beach with a private dock, as well many hiking, walking, and cycling trails.
Amenities
Accepts Debit Cards
Accepts Credit Cards
Bike Trails
Canoe/Kayak Rentals
Hiking
Restaurant
Restroom
Pets Welcome
Showers
Kitchenette
Non-smoking Rooms
Reviews
Lodging/Campground Information
| | |
| --- | --- |
| Camping Rates | Shoulder season Spring/Fall $70-$160/night; Peak Season $100-$190/night Jul & Aug Two Family Tents Shoulder Season/Spring Fall $105/night; Peak Season $125/night Two night minimum stay |
| Room Rates | Shoulder Season Spring/Fall $100-$250/night; Peak Season $130-$280 Jul & Aug |
About the Owner
Contact the property