The Okanagan Valley is an amazingly diverse land that visitors from all over the world flock to year after year. Here, the unparalleled climate and landscape combine to offer a relaxing and fulfilling lifestyle cherished by the residents and tourists alike. With parks, lakes, orchards, and wineries around every corner, this area of BC is open year-round for recreation and fun.
North Okanagan – A Four Season Adventure Playground
Situated in the north of the Okanagan Valley where Hwy 97 and Hwy 6 intersect is the city of Vernon. A bustling community, the city and area has many attractions for the young and the young-at-heart from waterslides to the Okanagan Science Centre, Nature Centre and nearby Historic O'Keefe Ranch. The city's proximity to one of BC's most beautiful lakes, Kalamalka, makes it the ideal summer getaway with sandy beaches and miles of fresh, emerald green water for every kind of water sport. Thrill seekers look to paragliding while those in need of solitude can fish in streams and lakes throughout Vernon and the surrounding area. This place is a pure vacationland – anytime of year.
Shining brightly above Vernon, at over 800 vertical meters, is Silver Star Mountain Resort. Bask in the legendary sunshine while you enjoy the storybook charm of the Victorian-inspired village. Powder snow, epic runs, night-lit tracks, snowmobiling, sliding, tobogganing – it's all here on the mountain. Throughout the summer visitors to Silver Star can ride the chair lift to the top to hike, mountain bike, horseback ride or attend the Summer Wine Festival.
South of Vernon is Lake Country. This is a fertile landscape marked by farmland, vineyards and orchards. Oyama, just north of Lake Country, is located at one of the loveliest vantage points in the valley – the isthmus between Wood Lake and Kalamalka Lake. Seventy-five years ago, this area was an important hub in the Okanagan by both rail and water. It is here that local farmers grew award-winning fruit and produce. Throughout Lake Country, one can see the industry is alive and well with miles of orchards growing apples, cherries, apricots, pears and peaches.
Kelowna – A City for All Ages
Kelowna is a city for all seasons. Situated on the shores of 131 km (82 mi) long Lake Okanagan, it's a place where the climate is mild and sunshine abounds. It's the largest city in the region, blessed with spectacular mountain scenery, large pristine lakes, sandy beaches and orchard and vineyard laden hillsides. This is a true haven for the serious vacationer offering golfing, skiing, boating, fishing, wineries,   shopping, dining, arts and cultural activities and everything in between.
Just a short drive from Kelowna is Big White Ski Resort. Boasting an impressive resume, Big White is the second largest ski resort in BC and Canada's largest totally ski in/ski out resort village.
Family fun can be found throughout the city within the miles of beautiful parklands – many located on sandy beaches with grassy picnic areas and playgrounds. City Park in downtown Kelowna, is a popular summertime hot spot with a great sandy beach and whimsical water park for the kids. Along the lake, vacationers can rent powerboats, seadoos, and even houseboats for more fun in the sun and on the water.
The Okanagan Valley is home to internationally acclaimed wines and Kelowna's wine industry has helped put the city on the world stage. Throughout the hillsides are miles of vineyards with vistas to be enjoyed by all. The wineries all welcome visitors to taste their award-winning wines.
Heading south from Kelowna is West Kelowna, formerly Westbank. West Kelowna is surrounded by mountains and is situated on Okanagan Lake's busy shores offering a host of amenities for travelers including wineries, golfing and art galleries. For those who enjoy playing in the water, there's sailing, canoeing, houseboating and windsurfing.
Lake Okanagan Beckons
Less than 20 minutes south is the community of Peachland which specializes in orchards and vineyards. Peachland is a tranquil and charming town, with its doorstep on the banks of Okanagan Lake. The best time of year to visit Peachland is in the spring and summer when the fruit trees are in full bloom and laden with fresh fruit.
Continuing south on Highway 97 is Summerland, located in the heart of the Okanagan fruit belt and just north of Penticton. It is a spectacular place offering visitors over 2,000 hours of sunshine annually, as well as an incredible landscape of rolling hills, sagebrush and pine, lush orchards and vineyards. Here you'll find some of the best beaches in the Okanagan. Peach Orchard Beach has a water park and boating facilities and there's Okanagan Provincial Park and Sun Oka Beach Provincial Park which has a white mile of sandy shoreline. The warm climate also allows for some great golfing on the two local courses.
A "must-do" when visiting Summerland is a trip on the Kettle Valley Steam Railway and to view the Kettle Valley Railway Bridge, visit the Summerland Ornamental Gardens, a 6-hectare historical garden featuring xeriscape plantings plus the Agricultural Museum.
Penticton – Home of Sandy Beaches & Sparkling Waters
Penticton is located between Lake Okanagan to the north and Skaha Lake to the south and is one of Canada's best-loved vacation spots. Cradled within three trimmed mountain slopes and dramatic clay cliffs Penticton has the natural beauty vacationers seek. The semi-arid desert climate creates long, hot, sunny summers and mild, pleasant winters.
The climate that makes vacationing in Penticton so popular is also what nurtures its superb agriculture and wine industry. Dozens of wineries proliferate the surrounding benches and in particular the Naramata Bench. Taking a winery tour or driving yourself along the winding road with vineyards stretching to the sky on the east and plunging to the lake on the west is a visually stunning experience. Wine tastings, some paired with local foods prepared by top chefs, await you.
Winter recreation is nearby at Apex Mountain, just a short drive from Penticton. The diverse terrain and intimate village keep guests coming back for more. Come summer, trade your skis for hiking boots, mountain bikes or climbing equipment.
Heading south from Penticton you pass through Kaleden and further on Okanagan Falls, both situated on the south end of Skaha Lake. Wineries, orchards, u-pick farms and markets are spread throughout the area. Nearby rock climbers scale Skaha Bluffs.
South Okanagan & Desert Country
Following Hwy 97 brings you into Oliver that calls itself the Wine Capital of Canada. Visit the "Golden Mile" and "Black Sage" east bench to taste some of the region's award-winning wines.
At the very southern end of the Okanagan Valley is the resort town of Osoyoos. Renowned for being situated in the middle of Canada's only true desert, it is considered to be the oasis of the desert landscape. It's also where you will find the warmest freshwater lake in all of Canada, Osoyoos Lake. In and around Osoyoos, low rainfall and sandy soil create a desert environment that is home to over 30% of BC's threatened and endangered wildlife, rare insects and plants. You can view this ecologically sensitive desert area at the Osoyoos Desert Centre. Golf, boat, swim and relax with a glass of local wine. Vacationers flock here year after year making it one of the Okanagan's favorite summertime destinations. Spring comes early, fall stays late and the mild winters and friendly small town atmosphere make it the perfect place for "snowbirds" seeking respite from harsher weather elsewhere.
Explore the Communities of Okanagan Valley
Discover the Thompson Okanagan Sub Regions
Okanagan Valley & Nearby Accommodations
Gallagher Lake | A Parkbridge Camping & RV Resort
Oliver
Located on the stunning Gallagher Lake in the South Okanagan Valley, Gallagher Lake RV Resort is surrounded by magnificent Ponderosa pines. The perfect destination for family camping, our resort is equipped with modern facilities to make a comfortable stay. With unmatched and consistent good weather ...
More Details
Featured
Apex Lodge by SkyRun Vacation Rentals
Penticton
Apex Lodge offers 10-boutique hotel rooms that accommodate 5 people per room and the 4-bedroom Executive Suite with private entrance that accommodates 10 people. The rooms in the Lodge do not have kitchens, but the suite does and if a group takes the entire building we allow access to the catering k ...
More Details
Apple Beach RV Park
Oliver
Apple Beach is a small, family-run RV Park and campground. We operate a simple, pleasant RV Park on beautiful Tucelnuit Lake. Simply put, Apple Beach is a quiet, friendly park in a lovely location. One firepit on the beach. Big Rig Friendly sites shaded by mature willows. Quiet pets accepted. Rates ...
More Details
Apple Valley Orchard & RV Park
Kelowna
RV Park in and around existing orchard groves of apples, peaches and cherries. Great valley view and close to all amenities. Very private and quiet. Nestled in the beauty of the Glenmore Valley, in the heart of the Okanagan Wine Country. 15 minutes to two lakes and a dozen golf courses. Weekly and m ...
More Details
Banbury Green RV & Camping Resort
Kaleden
Nestled away from the city noise, Banbury Green RV & Camping Resort is a peaceful destination for families wanting a fun and relaxing vacation. Our resort is a family-oriented campground with attractively kept lawns and flowerbeds. We have an abundance of shaded areas to stay cool during the warmer ...
More Details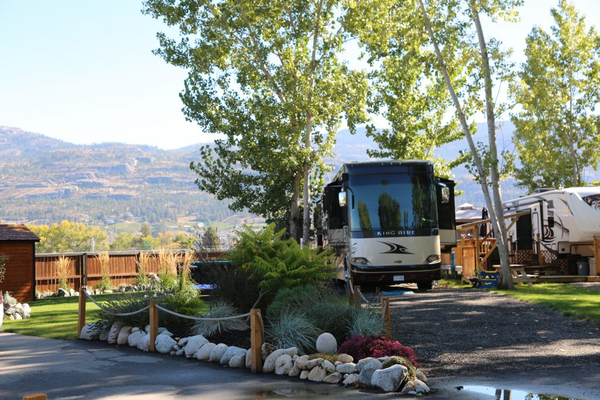 Barefoot Beach Resort
Penticton
Barefoot Beach Resort is a family-friendly campground with a private beach located on Skaha Lake. Our RV lots include irrigated garden beds along paved pathways under a canopy of established trees. Our Yurt village has 14 units ranging from studio (sleeps 2) to two bedroom layouts (sleeps 6-8), all ...
More Details
Beaver Lake Mountain Resort
Lake Country
Nestled on the shore of Beaver Lake, escape the hustle and bustle of city life to our tranquil mountain resort in Lake Country. Beaver Lake Mountain Resort is the ideal accommodation for families to enjoy quality time and create fun memories. We offer a variety of accommodation, including cabins, ca ...
More Details
Brookvale Holiday Resort
Osoyoos
Book your next family vacation at Brookvale Holiday Resort in sunny Osoyoos! Soak up the hot sun and bring your floaties to relax in Osoyoos Lake. Wanting to stay in a cabana or campground? We have both! Each cabana has its own cement patio and picnic table, perfect for the family to gather during m ...
More Details
Cabana Beach Campground & RV Park
Osoyoos
Enjoy the hot sun and sandy beach on the shore of Lake Osoyoos at Cabana Beach Campground & RV Park. Bring the family along to create unforgettable memories and spend the days filled with adventure. Choose to stay in one of our many accommodations, including camp and RV sites, cabins and cabanas. We ...
More Details
Camp-Along Tent & Trailer Resort
Penticton
Quiet, clean family oriented campground in apricot & pear orchard, high above Skaha Lake. Pool, store, modern washrooms/showers, laundromat facility. Speak Deutsch/Francais ...
More Details