The Vancouver Coast and Mountains tourism region boasts an amazing range of scenery and terrain, as well as unlimited activities and culture. From the cosmopolitan and trendy neighbourhoods of downtown Vancouver to the rainforests and secluded coves of the Sunshine Coast; from the world-renowned mountain resort of Whistler to the farmlands and rivers of the Fraser Valley, a wide variety of spectacular scenery and diverse attractions are never more than a short drive away.
Fraser Country
East from Metro Vancouver is Fraser Country and the mighty Fraser River, one of the world's greatest salmon-producing river systems. This area offers farming experiences, wineries and an abundance of local produce, as well as great fishing opportunities. The Fraser Canyon affords the visitor outstanding views and rock formations as the river cuts through the Coast Mountains. The Fraser is the focus for the area's economy, transportation and culture. Following the First Nation people, it became the Cariboo Wagon Trail, onto the Gold Rush Trail and finally the route for both the Canadian National and Canadian Pacific railways. More »
Sea to Sky Country
Northeast of Metro Vancouver is Sea to Sky Country and the world-famous resort of Whistler. The drive along Howe Sound offers stunning vistas of towering rock faces that plunge into the sea, mountains of glimmering ice, sparkling lakes and immense natural forests. Along the way the spectacular gondola ride in Squamish and the award winning Britannia Mine Museum National Historic Site offer reasons to come here.  Travel on beyond Whistler as the highway turns inland and hugs the lakes and rivers ending at Lillooet, a community that celebrates the Gold Rush era. More »
Sunshine Coast
Heading northwest by ferry to Langdale, visitors can follow over a hundred miles of rugged coastline from Vancouver on up the Sunshine Coast to Desolation Sound. The stunning scenery does not disappoint nor does the exceptional fishing and scuba diving. Named for its 2,400 hours of annual sunshine the lifestyle here is relaxed and is home to internationally known artists, musicians and artisans. More »
City of Vancouver
Vancouver, Coast and Mountains is the southwestern edge of British Columbia's mainland and is anchored by the glamorous cityscape of Vancouver that nestles at the foot of the stately peaks of the Coast Mountain range. The backdrop of the region is the coniferous green forest that envelops the mountains. Vancouver is a cosmopolitan city in a spectacular location on the Pacific Ocean. More »
Driving Routes & Tours
When making plans to travel to the Vancouver, Coast & Mountains region, consider these driving routes and tours. Some take one to two days, others a week. All of them start in, or cross, this region and all provide a snapshot of what British Columbia's stunning natural environment is all about.
Mighty Fraser Country Circle Tour
Vancouver Coast and Mountains & Nearby Accommodations
Capilano River RV Park
North Vancouver
RV parking & camping in Vancouver, also tenting. The most direct in Vancouver on Hwy 1. Exit Capilano Road S. Or Hwy 99 Exit N. Van. Off Lions Gate Bridge. OAP rates, special winter rates. ...
More Details
Featured
Cassandra Hotel
Vancouver
Located in historic Collingwood area, the 'Gateway to Vancouver,' the Cassandra Hotel is set in a prime location moments away from the famous sights and attractions in Vancouver. We offer our guests a relaxing and comfortable accommodation at an amazing price. Our hotel provides guests with seve ...
More Details
Featured
Willingdon Beach Municipal Campsite
Powell River
We are an 83 site (RV and tenting), municipal campground on the ocean, in the heart of Powell River, on the Sunshine Coast of BC. We are located next to a park, playground and the beach. Surrounded by beautiful hiking and walking trails, there is lots to see and do! ...
More Details
Featured
2400 Motel
Vancouver
Classic bungalows resting on over three acres of beautifully landscaped grounds in the city of Vancouver, 2400 Motel offers well-maintained units that range from large family units to smaller motel style units. The large units feature a full kitchen, perfect for guests who are wanting extended stay ...
More Details
Aloha Trailer Park & Campground
Abbotsford
Full or partial RV hookups, tenting, coin showers, laundry, store with gas/propane and bus stop nearby. No fires permitted. Minutes from attractions and shopping centre. Weekly and off-season rates. Reservations not accepted, first come, first serve basis. Cash only. ...
More Details
Anmore Camp & RV Park
Anmore
Centrally located to Vancouver. Entrance to Buntzen Lake. Quiet. Park Setting. Security Gate. Full hookups. Firepits. Showers. Laundry. Store. Sports court. Canoeing. Fishing. Open by Appointment Oct - Mar 31. Winter RV Camping Available. ...
More Details
Backeddy Resort & Marina
Egmont
Situated on 600 ft of pristine shoreline on the stunning Sechelt Inlet, Backeddy Resort & Marina is the ideal destination for outdoor enthusiasts! Surrounded by lush forests and gorgeous waters, we encourage guests to discover marine life, hiking trails, and unwind to the beautiful sounds of nature. ...
More Details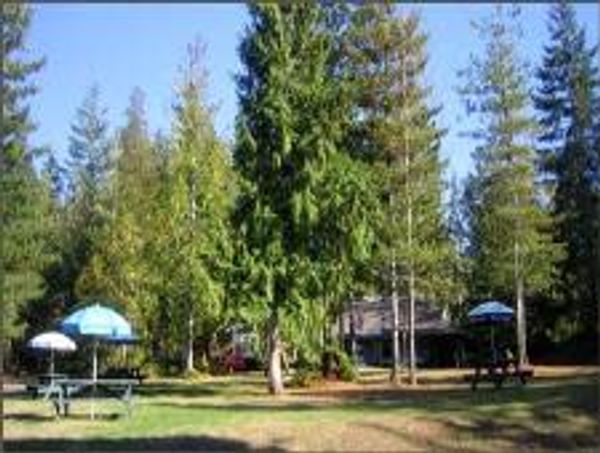 Bayside Campground & RV Park
Sechelt
This campground offers full and partial service RV sites and private tent sites. Satellite TV, hot showers, playground, volleyball, horseshoes. Convenient to Sechelt Inlet, Porpoise Bay Provincial Park, beaches, hiking, biking trails, golf, galleries, villages and services. ...
More Details
Bridal Falls Motel
Rosedale
A short walk to Bridal Veil Falls, water park, Golf Course and Driving Range. Walking distance to stores and restaurants. Monthly rates available in off season. ...
More Details
Burnaby Cariboo RV Park
Burnaby
Deluxe RV Park for sightseeing the Vancouver, Canada area. This campground has full hook-ups for any size motorhome, trailer or 5th wheel. Separate tent camping area, indoor pool, jacuzzi (hot tub), fitness room, store. On transit route (bus, skytrain, sea bus). Guided tours of Vancouver & Victoria. ...
More Details