Vancouverites pride themselves on their city's beauty and versatility. Other Canadians call Vancouver "lotus land." They do so with good reason, and perhaps a little envy. No more than an hour either way of the cosmopolitan downtown will take you into the heart of the Pacific Coast Mountains, put you in cozy seaside villages or place you at the door of the mighty Fraser Canyon. It is this same abundance of easily accessible scenery that has made the Vancouver region a favourite setting for TV and movie producers.
It's not just the West Coast location and gorgeous setting where mountains meet the sea. And it's not just the balmy climate that makes the 23 communities of Metro Vancouver a year-round paradise for sports and outdoors-minded people, it's also the sheer range of enjoyment for body, mind and soul. You can ski, golf and go sailing here all on the same day and then catch a play or listen to a symphony by night.
City of Vancouver
Seated at the edge of the Pacific Ocean and the feet of the Coast Mountains, Vancouver is a world-class city of theatres, five-star restaurants and ethnic diversity. The heady mix of cultures: North American, Asian, European and First Nations mix to create an eclectic mix of cuisines offered in a plethora of restaurants, bistros and cafes.
There are more than 150 galleries, museums, theatres and clubs to enjoy. Music of every type, from classical to Celtic, Caribbean to country, big band to blues and folk to funk can be found daily. Many festivals and events, including celebrations for children, jazz, writing, dance, film, comedy, bluegrass, fireworks and folk music are hosted throughout the region.
Take in some of the city's attractions such as Science World, the Vancouver Lookout and the Vancouver Aquarium. Take a hop-on-hop-off trolley to take you to the must-see places. Enjoy gourmet coffees while strolling through the up-beat and trendy neighbourhoods of Yaletown or Kitsilano. Visit Chinatown and Gastown, take a water taxi over to Granville Island to explore its market, arts and culture, eateries and water activities. Experience culture at the Vancouver Art Gallery – both inside and out.
The North Shore
Traveling north of the city over the Lions Gate Bridge brings you to North Vancouver where you have lots of choices for outdoor recreation. You can enjoy the small town atmosphere of Deep Cove and go kayaking in the calm waters of Indian Arm. Parks, beaches, and trails abound plus waterfalls, suspension bridges and golfing. Visit the hustle and bustle of Lonsdale Quay – get here by taking the Sea Bus from Vancouver. Take in Lonsdale Quay Market and the lively Shipyards Night Market in the summer. Visit a craft brewery and be tempted by local foods at upscale restaurants and urban cafes and bistros. Take the Skyride to the top of Grouse Mountain with its stunning views across the City of Vancouver and over to Vancouver Island. Driving west from here brings you to West Vancouver and on to Horseshoe Bay, one of the BC Ferry terminals for trips over to Vancouver Island, Bowen Island and the Sunshine Coast.
Discover Richmond & Delta
South of Vancouver are the cities of Richmond and Delta. Richmond boasts a cosmopolitan mix of peoples and arts & culture, particularly with a strong Asian influence. This can be experienced by visiting Richmond's Night Market – a street food and retail extravaganza that provides a wide cross-section of cultures and cuisine, plus entertainment. Take a trip out to Fisherman's Wharf in Steveston and watch the fishing boats unload their catch of the day and buy some fresh fish and seafood. Take a whale watching tour, relax on a beach, go fishing, hike or bike a trail. Take a tour of the Gulf of Georgia Cannery, once BC's largest Salmon cannery and a National Historic Site and the Britannia Shipyards.
Delta is south of Richmond and bordered by Georgia Straight and Boundary Bay. The region offers an abundance of water activities and beaches including the popular community of Tsawwassen. Delta is a favourite destination for birders who come here to visit the thousands of birds that follow the Pacific Migratory Flyway between October and April stopping over at the George C. Reifel Migratory Bird Sanctuary and Boundary Bay Regional Park.
Explore Burnaby & New Westminster
Heading east from Vancouver is Burnaby and the smaller city of New Westminster. The Fraser River has significant focus in New Westminster. A delightful boardwalk follows the river's edge. A public market and the Fraser River Discovery Centre that offers an interactive look at the history and current day use of the Fraser River anchor the busy boardwalk. Eateries, shopping, history, parks and more provide the visitor with many choices.
Burnaby's northern edge lies on Burrard Inlet. A visit to the top of Burnaby Mountain provides mountain views to the north and downtown Vancouver to the west. Also, check out the totem poles. History, parks and entertainment abound in this region. Burnaby Village Museum takes you back to the 1920s where you can explore a farmhouse and village with period-costumed interpreters and the kids can take a ride on the fully restored historic carousel. Take a ride on a model railway steam train at Burnaby Central Railway. Bike, hike, kayak, golf the many trails, lakes and parks.
Visit Tri-Cities, Pitt Meadows & Maple Ridge
East of Burnaby is Port Moody, Coquitlam and Port Coquitlam known as the Tri-Cities. Port Moody is home to Rocky Point Park and located at the end of Burrard Inlet. A trail and boardwalk surround the water's edge with a walking pier, boat launch, kayak rentals and swimming pool. Craft breweries are popular and close by.  Coquitlam and Port Coquitlam are home to many trails and parks with biking and hiking a favourite pastime. Bird watchers frequent Colony Farm wetlands, and fish hatcheries fascinate the youngsters.
Pitt Meadows and Maple Ridge are on the eastern edge of Metro Vancouver. Agriculture and farmlands are in abundance with many you-pick fruit-picking opportunities and roadside stands. A Farm Fresh Guide is available locally. Much of the land is criss-crossed by dykes which are popular for biking and walking. Golf courses with stunning mountain views offer challenging holes, fishing, boating and other outdoor activities provide ample opportunities to enjoy this region.
Discover Surrey
Surrey is in the southeast area of Metro Vancouver. Surrey, known as the City of Parks, provides an abundance of outdoor recreation. Trails, gardens, lakes and beaches offer birdwatching, sporting activities, water sports and fishing. Take in a round of golf on one of the several courses. South of Surrey is White Rock, a small community on Boundary Bay and known for its beach, walking pier and the big white rock.
Explore the Communities of Vancouver and Area
Discover the Vancouver Coast and Mountains Sub Regions
Vancouver and Area & Nearby Accommodations
Capilano River RV Park
North Vancouver
RV parking & camping in Vancouver, also tenting. The most direct in Vancouver on Hwy 1. Exit Capilano Road S. Or Hwy 99 Exit N. Van. Off Lions Gate Bridge. OAP rates, special winter rates. ...
More Details
Featured
Cassandra Hotel
Vancouver
Located in historic Collingwood area, the 'Gateway to Vancouver,' the Cassandra Hotel is set in a prime location moments away from the famous sights and attractions in Vancouver. We offer our guests a relaxing and comfortable accommodation at an amazing price. Our hotel provides guests with seve ...
More Details
Featured
2400 Motel
Vancouver
Classic bungalows resting on over three acres of beautifully landscaped grounds in the city of Vancouver, 2400 Motel offers well-maintained units that range from large family units to smaller motel style units. The large units feature a full kitchen, perfect for guests who are wanting extended stay ...
More Details
Anmore Camp & RV Park
Anmore
Centrally located to Vancouver. Entrance to Buntzen Lake. Quiet. Park Setting. Security Gate. Full hookups. Firepits. Showers. Laundry. Store. Sports court. Canoeing. Fishing. Open by Appointment Oct - Mar 31. Winter RV Camping Available. ...
More Details
Burnaby Cariboo RV Park
Burnaby
Deluxe RV Park for sightseeing the Vancouver, Canada area. This campground has full hook-ups for any size motorhome, trailer or 5th wheel. Separate tent camping area, indoor pool, jacuzzi (hot tub), fitness room, store. On transit route (bus, skytrain, sea bus). Guided tours of Vancouver & Victoria. ...
More Details
Canadream RV Rentals & Sales
Delta
Canadream has a fleet of more than 800 vehicles available for rent from seven locations across Canada. Canadream has small and large RVs for hire for one to six guests. Our RVs have custom features exclusive to Canadream. Rent a motorhome from Canadream and experience Canada at your own pace. ...
More Details
Dogwood Campgrounds of BC
Surrey
From the East on Hwy 1 take exit 50, stay right follow signs. From the West on Hwy 1 take exit 48 follow 108 E Ave signs, turn off 108 E off of 152nd St. Pool, laundry, bus tours, pull- thrus. Arcade, playground. Free showers. Very accessible to Vancouver and it's attractions. ...
More Details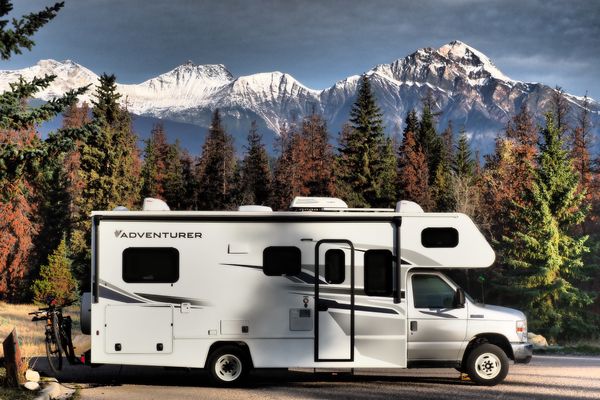 Fraserway RV Rentals
Delta
Our Delta location is home to our Rentals Division. Canada's only privately owned national RV rental network, (Vancouver, Calgary, Edmonton (Leduc), Whitehorse, Halifax and Toronto) offering over 1,200 late-model motorhomes, van conversions and truck-campers. Languages spoken: German, French, Dutch. ...
More Details
Hampton Inn Vancouver Airport Hotel
Richmond
The Hampton Inn Vancouver Airport features 109 guestrooms and is located in the heart of Richmond, British Columbia. It is conveniently situated close to local restaurants, 20 minutes from downtown Vancouver, 20 minutes from Tsawwassen Ferry Terminal and just 35 minutes from our beautiful native ski ...
More Details
Hazelmere RV Park & Campground
Surrey
Camping in the city at Hazelmere RV Park & Campground! Nestled far from the country road, relax and unwind in the peaceful countryside. Situated on 34 landscaped acres with the Little Campbell River running through the property. We have over 150 RV sites with a choice of full or partial hookup servi ...
More Details