A mountain range bisects Vancouver Island north and south, bordered by old growth forests, undulating rivers, and on the inland side, rolling fertile valleys. The valleys form the backdrop of Cowichan, a place of incredible beauty, timeless traditions and tidal rhythms. Inspiring vistas of valleys and vineyards, forests and farmland, sparkling lakes and crystal-clear rivers abound in the picturesque Cowichan region.
The Cowichan Valley
The Cowichan Valley is located between Victoria and Nanaimo and is named after the Cowichan First Nations for whom it means "land warmed by the sun". Between the mountains is some of the best agricultural land on the west coast, which has proven attractive to hobby farmers and many organic crop growers. Wineries and local food eateries are in abundance inviting you to sip and savour.
Duncan is the Cowichan Valley's largest community. Known as the "City of Totems," Duncan is graced with dozens of totem poles, principally located downtown and along the highway. Just north of Duncan is the BC Forestry Discovery Centre where visitors can stroll under 200 year old, 55 metre-tall Douglas firs and visit a replica logging camp.
South of Duncan on Highway 1 are the small communities of Cowichan Bay, Shawnigan Lake, Cobble Hill and Mill Bay. These quaint, picturesque communities are steeped in fishing, logging, farming, and mining traditions.
Cowichan Lake
The pristine Cowichan Lake District includes the communities of Lake Cowichan (featuring the Kaatza Station Museum), Honeymoon Bay, Youbou, Mesachie Lake, and Caycuse. This mountainous area, rich with wildlife, is an ideal destination for a family vacation or an outdoor adventure. The scenic 75 km (47 mi) drive on paved and gravel roads around Cowichan Lake, the largest freshwater lake on Vancouver Island, takes about an hour-and-a-half. There are several parks such as Cowichan River Provincial Park with 20 km (12 mi) of hiking trails and advanced kayaking at Marie Canyon, plus lookouts with excellent photo opportunities and wildlife viewing.
Secondary roads provide access to Port Renfrew located in South Vancouver Island and Bamfield on the Pacific Rim, the trailheads for the West Coast Trail, as well as to the old-growth forests of Carmanah Walbran Provincial Park. These roads also connect to Nitinat Lake, a tidal lake that opens onto the Pacific Ocean which is popular with wind surfers.
Discover Chemainus & Ladysmith
Chemainus, to the north of Duncan on Highway 1, has won international acclaim for its Festival of Murals, a very successful revitalization project that began in 1982 with the unveiling of five large murals, all professionally painted on existing downtown buildings. The Festival of Murals has grown and now there are dozens of murals. Chemainus is also home to the Chemainus Theatre, offering several centre-stage shows every year. Unique shops, open air market, beaches, parks and more bring visitors to experience this vibrant small town.
Ladysmith is the most northern community in Cowichan. Once a shipping port for coal, in recent years Ladysmith has been voted one of the prettiest towns in Canada by Harrowsmith Country Life magazine.  Take a walking tour and check out the restored 19th and 20th century buildings that house antique shops, delightful cafes and eateries. Then relax on the beach and enjoy the stunning views.
Communities to explore: Chemainus, Cobble Hill, Cowichan Bay, Crofton, Duncan, Honeymoon Bay, Ladysmith, Lake Cowichan, Malahat, Maple Bay, Mill Bay, Shawnigan Lake, Youbou.
Explore the Communities of Cowichan
Discover the Vancouver Island and the Gulf Islands Sub Regions
Cowichan & Nearby Accommodations
Rondalyn | A Parkbridge Camping & RV Resort
Ladysmith
A beautiful forested Parkbridge Resort with a big rig friendly park on Halsam Creek is the ideal destination for families to have a fun filled vacation. Offering year round accommodation, we welcome guests to stay with us during any season. Your RV and camping experience will be the best one yet at ...
More Details
Featured
4 All Seasons Resort
Ladysmith
A family owned camping facility, situated on inside coast of Vancouver Island on the Cedar peninsula, covered by mature trees and bounded by beautiful rock beaches over 100 sites in a treed setting. 3 night minimum stay for long weekends. ...
More Details
Beaver Lake Resort
Lake Cowichan
Resting between the mountains and fir trees, Beaver Lake Resort is the ideal destination for tranquility and relaxation. Featuring spacious sunny or treed RV, tent or cabin sites, you will enjoy 1500 feet beautiful lake frontage views and private access of Beaver Lake. Our family oriented, pet frien ...
More Details
Cedar Springs Ranch
Malahat
Nestled amongst towering cedar and fir trees, Cedar Springs Ranch offers a family-friendly destination. Situated in a forested mountain setting of Malahat Drive, our campground is an escape from urban life while still being only a 20 minute drive to Victoria. Explore the historic city, boat across t ...
More Details
Chemainus River Campgrounds
Chemainus
3 km south of Chemainus on Trans Canada Hwy. Enjoy our 9 wooded ha situated along the Chemainus River; featuring large sunny and wooded sites with water, power, sewer, showers, Laundromat and internet. Close to golf course and regional park. River swimming, badminton, horseshoe pitch; guest patio ar ...
More Details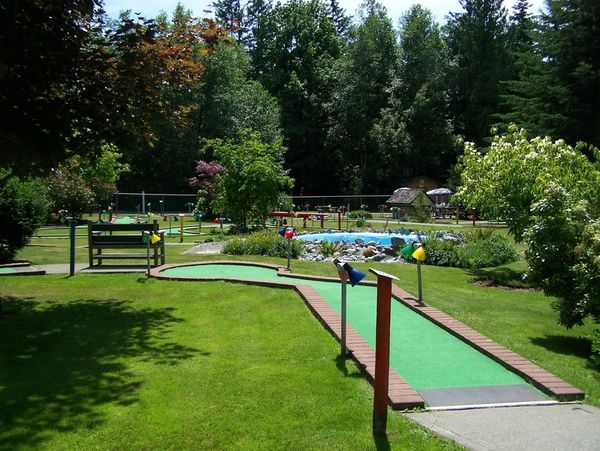 Country Maples RV Resort
Chemainus
Quality RV Resort with lots of space, grassy and shaded sites. 160 sites off Hwy, heated pool, mini golf, clubhouse, playground. Cell service available. West side of Hwy 1, 1/2 mile south of Henry Road. Nearby golf, fishing, antique and curio shops, Chemainus murals. ...
More Details
Galaxy RV (Duncan)
Duncan
Galaxy RV is part of the Galaxy Motors family of companies, Serving Vancouver Island since 1990. During that time we've built a ton of knowledge and expertise that allows us to be a successful customer-focused organization. Offering Sales and Service, we carry brands like Dutchmen, Coachmen, Aerol ...
More Details
Laketown Ranch Campground
Lake Cowichan
**Reservations opening February 1, 2021 for our inaugural season (May 1 - Sept 30th, 2021) -** Contact us for more information.  Nestled amongst rolling pastures and wooded areas in the beautiful Lake Cowichan region, the new Laketown Ranch Campgrounds are the ideal location for families, groups a ...
More Details
Lakeview Park Campground
Lake Cowichan
Reservations for the 2020 season are now closed. The reservation system will re-open March 1, 2021 (12:00 noon) for reservations in 2021\. COVID-19 protocols as mandated will be followed. This campground offers 75 sites, 28 of which have lake views. The marina is just a short walk away. Power and wa ...
More Details
Malahat Mountain Meadows RV Resort
Malahat
Situated north of beautiful Victoria, British Columbia near the summit of Malahat Drive, the resort is an experience with nature nestled amongst the giant cedars and seasonal creeks. We offer spacious, fully serviced RV lots and some private and scenic campsites, perfect for every need. Choose from ...
More Details