Stretching along the sheltered east coast of Vancouver Island, Central Vancouver Island offers visitors glorious parks, sandy beaches, warm ocean temperatures, tranquil lakes, exceptional golf courses, and fabulous fishing.
Discover Nanaimo & Gabriola Island
Central Vancouver Island features Vancouver Island's second largest city, Nanaimo, a fun-filled, energetic city with a lively harbour. The word "Nanaimo" is derived from the Coast Salish word "Sney-Ny-Mous" meaning "meeting place." Famous for its varied landscapes and more than two dozen parks, Nanaimo boasts one of the most beautiful waterfronts in BC.
Nanaimo is the mid-island transportation hub to and from the British Columbia mainland with BC Ferries daily sailings from Departure Bay to Horseshoe Bay (West Vancouver on the Mainland) and Duke Point to Tsawwassen on the lower BC mainland. This makes Nanaimo easy to get to, and a great central location to set up base for tours of Vancouver Island and the Gulf Islands.
Whilst in Nanaimo, island hoppers can enjoy Gabriola Island accessed from Nanaimo by BC Ferries. The island is partly residential but also holds large expanses of forest with abundant wildlife. Long stretches of unspoiled coastline can be explored. From Descanso Bay, the ferry terminal, head north to the best beaches such as those at Gabriola Sands Provincial Park. Drumbeg Provincial Park in the south east of Gabriola Island offers a short trail through forest to a secluded bay.
The Island Highway (Highway 19) hugs the coast from Nanaimo up to Fanny Bay, the northern most point of Central Vancouver Island, with miles and miles of safe, sandy beaches and views across the Salish Sea (Strait of Georgia).
North of Nanaimo, just off Highway 19, is the protected harbour of Nanoose Bay. The local marinas are a destination for visitors from throughout the Pacific Northwest and around the world. The Nanoose Bay area offers a wealth of activities, including sailing, windsurfing, fishing, tennis, diving, hiking, canoeing, and more.
Explore Parksville & Qualicum Beach
Exiting off Highway 19 onto the Oceanside Route Highway 19A takes you through seaside communities with home grown hospitality and an abundance of activities and accommodation to choose from. Parksville marks the beginning of Oceanside country with the focus on the outstanding waterfront. When the tide is low, vast stretches of sand beckon to sandcastle builders and beachcombers. As the tide comes in, the water is warmed by the hot sand and is perfect for swimming. Rathtrevor Beach Provincial Park just south of Parksville features a fine 2 km (1 mi) sandy beach, wooded stands with great nature trails and bird watching. Arts and crafts in the Parksville area are world-renowned and feature a diverse selection of paintings, pottery, and jewelry. Relax in the sun, play in the water, stroll along the shoreline, or play a round of golf.
From Parksville you can head west along Highways 4 and 4A through the pastoral Coombs area toward Port Alberni (Pacific Rim). Coombs old-fashioned country stores are scattered around Coombs Emporium and Frontier Town. The small stores sell crafts and knickknacks as well as antiques. Don't miss the grass-covered roof of the old market that is home to several goats!
Ten minutes north of Parksville on the Oceanside Route is the friendly community of Qualicum Beach. Known for spectacular gardens, wide open skies, distant mountains, gorgeous beaches, lush forests, and an endless list of activities.
Lighthouse Country
Just north of Qualicum Beach, along the Oceanside Route, is charming Lighthouse Country that includes the communities of Bowser, Deep Bay and Fanny Bay. Here you'll find plenty of opportunities to boat, fish, hike, trail ride, cave, beachcomb and golf. Explore the caves at Horne Lake Caves Provincial Park. Nearby Spider Lake is known for its warm water, kayaking, and canoeing. Clam and shellfish digging are popular activities. The marina in protected Deep Bay Harbour offers boat charters and rentals.
Communities to explore: Bowser, Cassidy, Coombs, Deep Bay, Errington, Fanny Bay, Gabriola Island, Lantzville, Nanaimo, Nanoose Bay, Parksville, Qualicum Beach.
Explore the Communities of Central Vancouver Island
Discover the Vancouver Island and the Gulf Islands Sub Regions
Central Vancouver Island & Nearby Accommodations
Whiskey Creek RV Campground
Qualicum Beach
On Hwy 4, 18 kms west of Parksville. Spacious grassed and treed campsites and RV sites, flush toilets, hot showers, excellent drinking water, firepits, firewood, volleyball, childrens play area. Close to ATV & hiking trails. Pets welcome on leash. Free WIFI. Store nearby. On route to Tofino/Ucluelet ...
More Details
Featured
Brannen Lake RV Park & Campsite
Nanaimo
40 acres of trees, grass & quiet. Minutes from major shopping. 110 acre lakefront farm adjoining campsite. Nightly hayrides. Swimming, hiking trails, boat-ramp, wharf, store, hot showers, flush toilets, laundry and playground. Full/partial hook-ups serving tents to R.V.'s towing a vehicle. Call us t ...
More Details
Coombs Country Campground
Coombs
Located 10 mins. from Parksville and Qualicum Beach. Fully-serviced pads for short and longer term stays. Parklike setting, hot showers, 2 1/2 acre man-made lake, heated pool and hot tub. Playground, laundromat, arcade, forest trails and sani-station for guests only. Pets welcome. Reservations recom ...
More Details
Deep Bay RV Park
Bowser
Quiet, scenic beach front, family-oriented RV park and campground. Full-service camp kitchen, cable-vision, laundry, hot showers, boat launch, salmon fishing, boating, water sports, wildlife viewing, beaches, clams, oysters, adjacent to modern government private marina and sandy beach. No public pho ...
More Details
Descanso Bay Regional Park
Gabriola Island
Camp by the sea on scenic Gabriola Island. Two oyster bays provide many delights for kayakers, picnickers, campers, hikers and swimmers. Located near the ferry, the family-oriented campground offers private, wooded sites. ...
More Details
Horne Lake Regional Park
Qualicum Beach
Located near Horne Lake Caves, this regional park has kilometres of lake and riverfront to explore. The campground has private wooded and lakefront sites and offers a range of programmed recreation and nature interpretation. ...
More Details
Inn on Long Lake
Nanaimo
With a central location in Nanaimo, Inn on Long Lake is the perfect property as a base to explore the East Coast of Vancouver Island. With newly renovated rooms and private balconies, guests are guaranteed to enjoy a relaxing and scenic view of Long Lake. All rooms are equipped with a fridge, microw ...
More Details
Jinglepot RV Park & Campgrounds
Nanaimo
Time amid garden rocks, flower fragrance, fountain sounds and bird's song. Serene, peaceful, full facilities, pull-thrus. Separate or group tenting area. Central and great convenient location for all of the island and Nanaimo including ferries. 15/30/50 amp, cable, city sewer, city water, cable, int ...
More Details
Lighthouse Motel
Qualicum Bay
Situated on the shores of the ocean overlooking the Strait of Georgia, Hornby Island and the Coastal Mountain Range, Lighthouse Motel is the ideal destination for guests wanting to relax in paradise. We pride ourselves on offering clean, affordable and exceptionally comfortable sleeping units for fa ...
More Details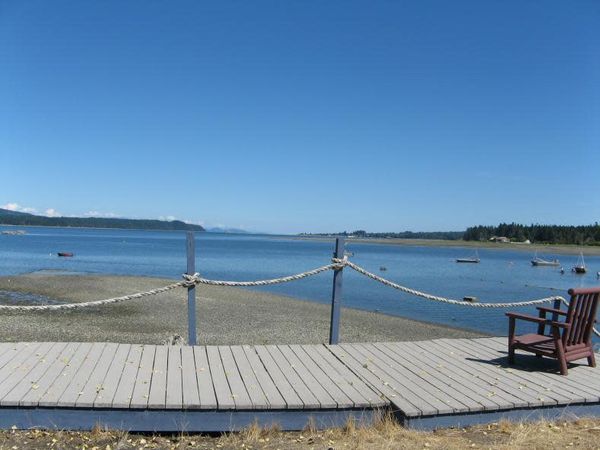 Lighthouse RV Park
Fanny Bay
Under New Management. Welcome to the Lighthouse RV Park you will discover a world of relaxation and adventure. Enjoy a number of outdoor activities or enjoy our oceanfront views. ...
More Details